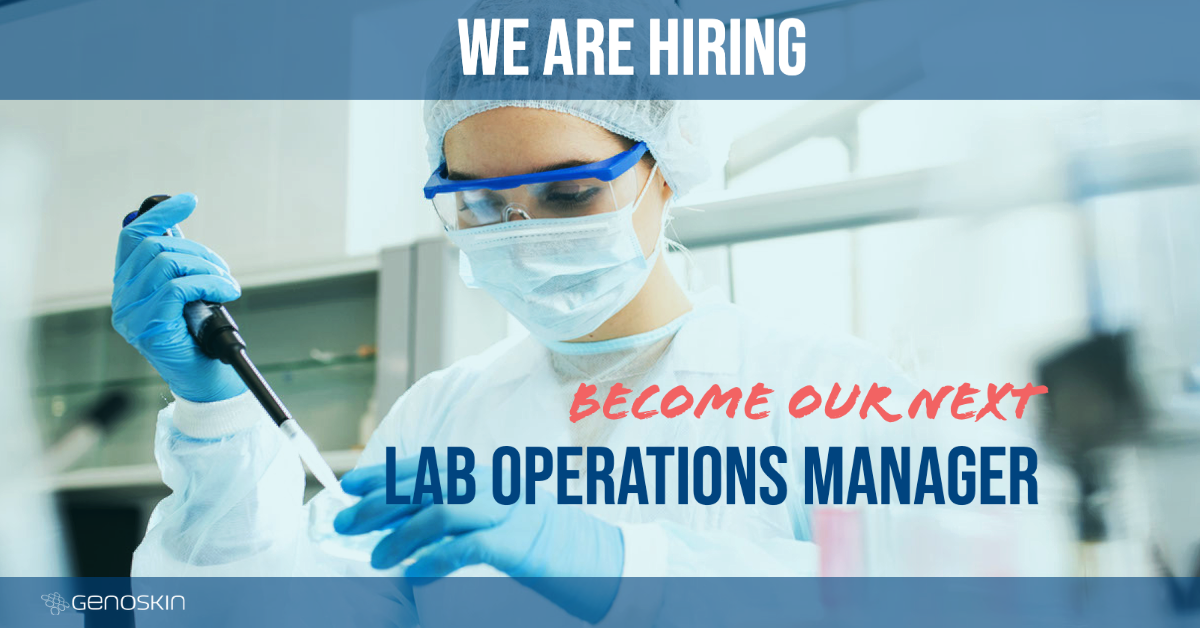 Join Genoskin! We are looking for a Lab Operations Manager!
Genoskin's US team is growing! Join us as a Lab Operations Manager in our labs in Salem, MA.
Location: Salem, MA, USA
Type of position: Full time
Reports to: Chief Operating Officer
Department: Production and Services
Ideal start date: End of Q2
Who we are:
Genoskin is a French-American life science company with research facilities in Salem, MA and Toulouse, France. The company creates, develops, and specializes in first-in-human data generation for drug & vaccine developers as well as cosmetic companies and academic institutions.
What and why:
To generate more accurate human data and deliver the information faster, Genoskin uses IP-protected technologies and platforms that, for the first time, maintain donated human skin tissue in an immunocompetent and functional survival state. The result is true-to-life human skin models that are the closest alternative to in vivo testing on humans and a reliable alternative to animal testing.
Genoskin's HypoSkin® platform is the world's first platform that allows testing injections in human skin ex vivo, in order to provide drug and vaccine makers with an unparalleled de-risking tool for their portfolios.
Genoskin's human skin platforms, empowered by artificial intelligence and machine learning, generate actionable human data ahead of clinical trials and significantly reduce the costs, duration, and risks inherent in drug development.
Job Summary:
The Lab Operations Manager is a leadership role on Genoskin's lab team. Your primary responsibility will be to support our Chief Operating Officer to ensure that we deliver best-in-class results for our customers. In particular, you will be in charge of supervising and implementing productions and delivery of ex vivo human skin models as well as R&D service activities for our customers. You will make sure projects are following required timeframes and Standard Operating Procedures (SOPs) in place. You control the quality of products and scientific results. Finally, you will manage a growing team of laboratory technicians and lab assistants.
What you will be doing:
Manage the daily work activities in the laboratory to ensure adequate coverage to accommodate workload and meet required timeframes and technical specifications.
Oversee laboratory staff hiring, training, and development.
Perform laboratory experiments and analyses if necessary.
Organize and oversee the shipment of manufactured skin models from the facility to the customer's labs.
Coordinate with the Lab Operations team located in France to ensure process harmonization and outsourcing of analysis.
Interact with customers' company personnel (study directors and business managers) for production and services matters.
Oversee quality control, physical space, inventory, equipment maintenance, lab supply purchasing, and safety.
Draft and review SOPs, protocols, and reports related to laboratory processes, equipment, and laboratory experiments and analyses.
What you need to succeed:
Undergraduate degree (Bachelor's or Master's degree) in a relevant scientific field
3-5 years of supervisory experience in a clinical or research laboratory setting
Knowledge or experience with cell/tissue culture
Leadership, management and communication skills in an international team environment
Enthusiasm, independence and a willingness to learn in a fast-paced, team environment
What will help you succeed:
Experience with SOPs and GLP compliant environments.
Knowledge, experience of skin biology
Compensation: Base Salary
Benefits:
15 days PTO
40 hours sick time
Company-sponsored Healthcare / Dental
401K
Paid parental leave
How to apply:
Genoskin Inc is a proud equal opportunity employer committed to an inclusive work environment and to building a team that reflects the rich diversity of our community. People of color, people with disabilities, and people of diverse sexual orientations, gender expressions, and identities are encouraged to apply.
To apply, please submit your resume and a cover letter.
Please submit this information to
Applications will be accepted and reviewed until the position is filled.
Comments are closed.