NativeSkin® Human Skin Models
LIVE HUMAN SKIN ADAPTED TO YOUR NEEDS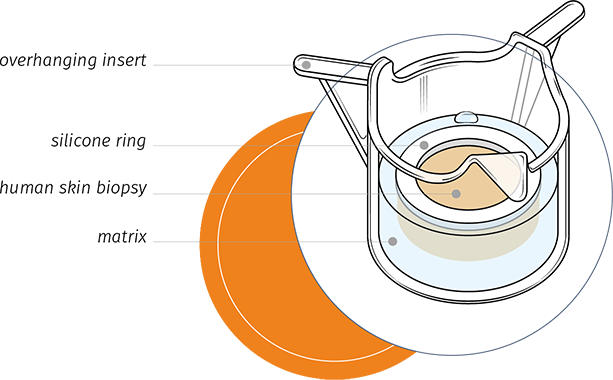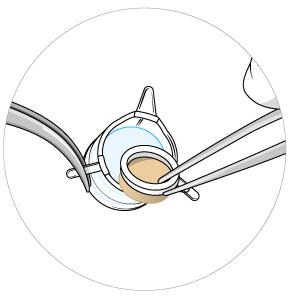 Applications
The culture of skin explants has a long tradition in investigative dermatology to study the physiology and pathophysiology of human skin and epidermal appendages in vitro. NativeSkin is relevant for the following applications:
Percutaneous absorption
Metabolism
Repeated dose assay
Long term protocols
Langerhans cells study
Skin resident T cells study
Immune responses
Melanogenesis
Melanocyte study
Approved protocols
Genoskin has approved different protocols to analyze the effects of a treatment or compound on NativeSkin models:
Viability assay (MTT/WST-8)
Formalin fixation for paraffin embedding
Epidermal separation (with Dispase and heat-mediated)
OCT fixation and cryosectioning
H&E staining
Fontana Masson staining
Lucifer Yellow penetration
Human keratinocyte primary culture
NativeSkin access® is available in 3 different sizes

NativeSkin comes in different sizes and versions to answer all your study and assay requirements.
The standard version of NativeSkin models is designed for skin absorption studies and contains a white silicone ring that is firmly fixed to the skin biopsy. This silicone ring covers the outer edge of the biopsy to prevent lateral diffusion of topically applied products. A more basic version and a smaller model (NativeSkin S), without the silicone ring, are also available and designed for systemic treatments and genomic readout. Below you will find an overview of our entire range of NativeSkin products.
If you wish to perform studies on skin microbiome, it is, of course, possible with NativeSkin®. However, please note that it requires special conditions. Contact us so that we can provide optimal solutions for your research.
| REFERENCE | DESCRIPTION | WORKING SURFACE | DIAMETER | RECOMMENDED TOPICAL VOLUME | EX VIVO CULTURE DURATION | PLATE FORMAT | REQUIRED VOLUME | MINIMUM ORDER |
| --- | --- | --- | --- | --- | --- | --- | --- | --- |
| NSA08 | NativeSkin access (w/o silicone ring) | – | 8 mm | – | 7 days | 12 wells | 1mL | n.a. |
| NSA11 | NativeSkin access | 0.5 cm2 | 11 mm | 10-20uL | 7 days | 12 wells | 1mL | n.a. |
| NSA20 | NativeSkin access Large | 1.76 cm2 | 20 mm | 50-70uL | 7 days | 6 wells | 2mL | n.a. wells |