INJECTION SITE REACTIONS
A patented human-based platform to address injection site reactions at the organ, cellular & molecular levels
Standardized
The ISR platform allows to create reproducible assays for reliable results that are supported by unbiased data analysis.
Characterization
Our unique ISR platform helps you gain a deep understanding of inflammatory events at tissue, cell and/or molecular level.
Injections
The ISR platform allows to study response to subcutaneous and intradermal injections using the HypoSkin® model.
Adverse events
Studying injection site reactions prior to clinical trials helps you predict the number one complaint from patients upon injection.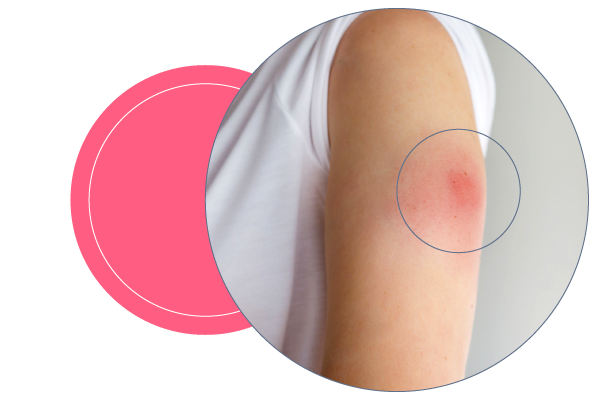 A unique injectable ex-vivo human skin model

to better understand injection site reaction

Upon injection of a therapeutic molecule or formulation in a standardized healthy and immunocompetent human skin model, we analyse mast cells degranulation, cytokine release & perform mRNA sequencing to precisely characterize the type of inflammatory reaction we are encountering

Multiple donors of different age, gender and ethnicity

Parallel testing of different compounds in the same donor

Artificial intelligence-assisted MCs degranulation scoring

Positive & negative controls.
MCs granules stained with conjugated avidin.
AI-assisted degranulation scoring and image processing.
Mast cells degranulation observed on a full-thickness epidermis & dermis human skin sample after subcutaneous injection of IL-1R antagonist (Avidin & DAPI)
Human primary mast cell assays to better understand degranulation
Immune reaction can result from mast cells triggered either directly or indirectly

Genoskin mast cells assays are performed on connective tissue-type human primary cells in culture to generate more relevant human data and support data previously obtained in our injectable skin model.
Assays performed on functional human primary mast cells in culture provide a better understanding of the pathways through which these immune cells are triggered

Connective tissue-type mast cells production and assays workflow: Peripheral blood obtained from healthy adult donors. In a 3-month process, we are able to obtain mature mast cells that show the same metabolism and expression as in the human body.

2 weeks lead time

High throughput screening

Multiple formulations tested per donor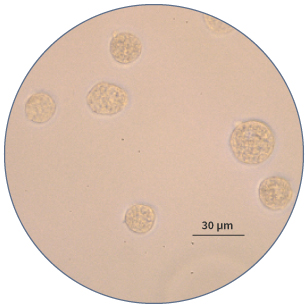 Connective tissue-type mast cells in culture.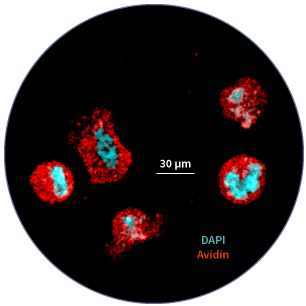 Human primary connective tissue-type mast cells cultured for 3 months and stained with fluorescent avidin & DAPI.
Complementary cell-line assays to evaluate MRGPRX2 activation
Complementary cell-line assays on cells expressing MRGPRX2 based on Genoskin proprietary platform allows formulation optimization or screening of new drug-candidate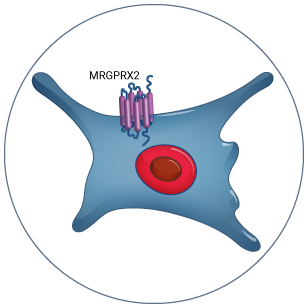 High throughput screening

Target specifically MRGPRX2

Rapid & sensitive readout