HypoSkin®
SKIN MODEL FOR SUBCUTANEOUS INJECTIONS
FIRST MODEL FOR SUBCUTANEOUS INJECTIONS
Currently, HypoSkin is the only alternative to animal testing for subcutaneous injections.
INJECTABLE REAL HUMAN SKIN
The HypoSkin model contains all three layers of human skin for predictive studies.
LIVE HUMAN SKIN RESPONSE
Genoskin's patented matrix and culture medium keep the skin model alive for 7+ days.
ADAPTED TO YOUR NEEDS
HypoSkin is available in different formats and can be used for subcutaneous and topical applications.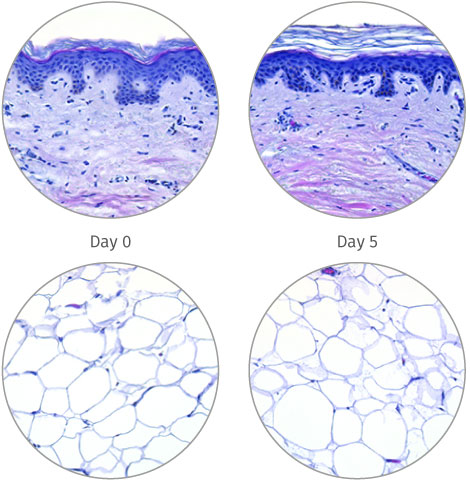 HypoSkin: The need for in vitro models for subcutaneous injections
To date, there are no in vitro biological models to test the effects of compound injection in the subcutaneous tissue. Then, researchers generally test formulations in vivo on animals, even though their skin and subcutaneous fat tissue are different from humans. As a result, the absence of more pertinent models makes it difficult to evaluate and optimize a compound's formulation before clinical trials. Therefore, to develop efficient drugs for subcutaneous injection, there's a strong need for in vitro experimental models that closely mimic human tissue structure and physiology.
Hypo-InflammaSkin: a psoriasis model to study subcutaneous injections of anti-inflammatory biologics
a proof-of-concept case study
The HypoSkin technology was combined with the InflammaSkin model to evaluate the efficacy of subcutaneous psoriasis biologics adalimumab.
Read more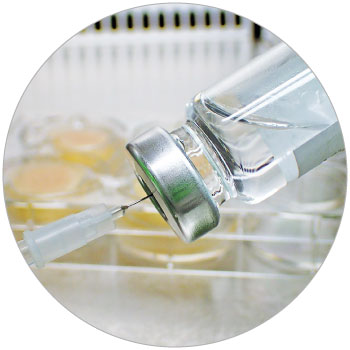 HypoSkin® comes in different sizes and thickness to meet any subcutaneous injections need
HypoSkin® comes in a range of formats varying in biopsy diameter and fat tissue thickness to assess skin response to subcutaneous injections and topical or systemic administration.
Please note that HypoSkin® assays are performed in house through a broad range of services. Therefore, we would be happy to discuss with you to understand yours needs and help your project move forward: contact us for additional information.
SUBCUTANEOUS INJECTION
TOPICAL ADMINISTRATION
REFERENCE
DESCRIPTION
Ø
HYPODERMIS THICKNESS
RECOMMENDED INJECTION VOLUME
WORKING SURFACE
RECOMMENDED TOPICAL VOLUME
EX VIVO CULTURE DURATION
PLATE FORMAT
REQUIRED VOLUME OF MEDIUM/DAY
MINIMUM ORDER
HPS001-5
HypoSkin®
11 mm
5 mm
-
0.5 cm2
5-20 uL
7 days
12 wells
1 mL
12 wells
HPS001-10
10 mm
20 uL
HPS002-5
HypoSkin® Medium
15 mm
5 mm
-
1.13 cm2
25-45 uL
7 days
6 wells
2 mL
12 wells
HPS002-10
10 mm
40 uL
HPS003-5
HypoSkin® Large
20 mm
5 mm
-
1.76 cm2
50-70 uL
7 days
6 wells
2 mL
12 wells
HPS003-10
10 mm
100 uL
HPS004-5
HypoSkin® XL
23 mm
5 mm
-
2.54 cm2
100-200 uL
5 days
6 wells
3 mL
12 wells
HPS004-10
10 mm
125 uL