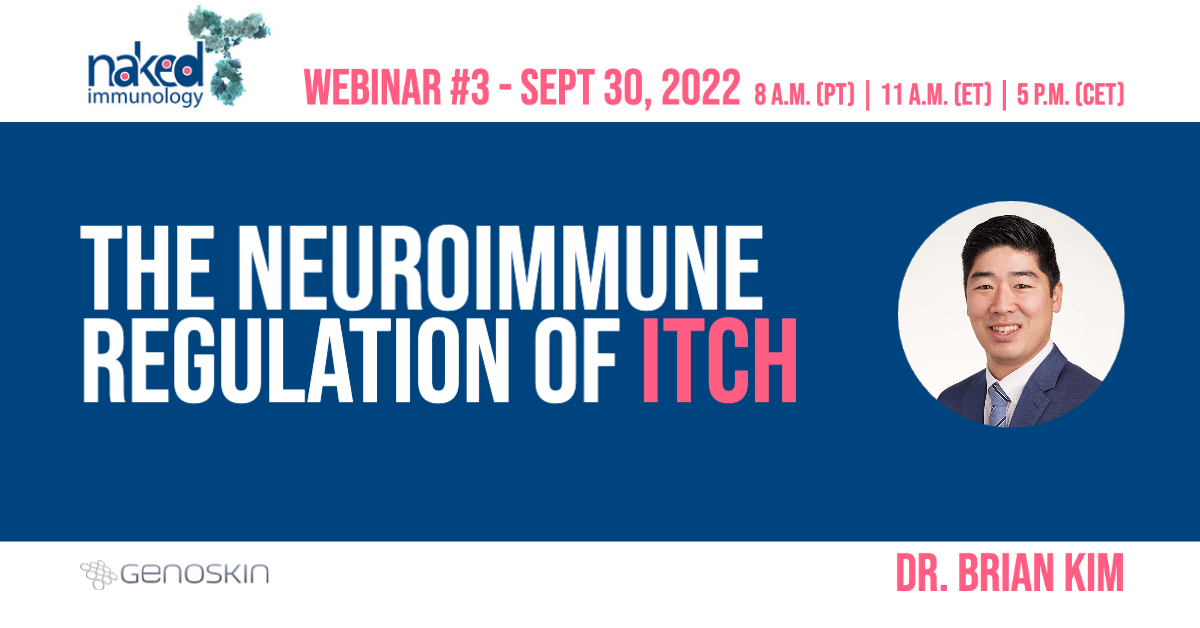 Welcome back to the Naked Immunology Webinar Series!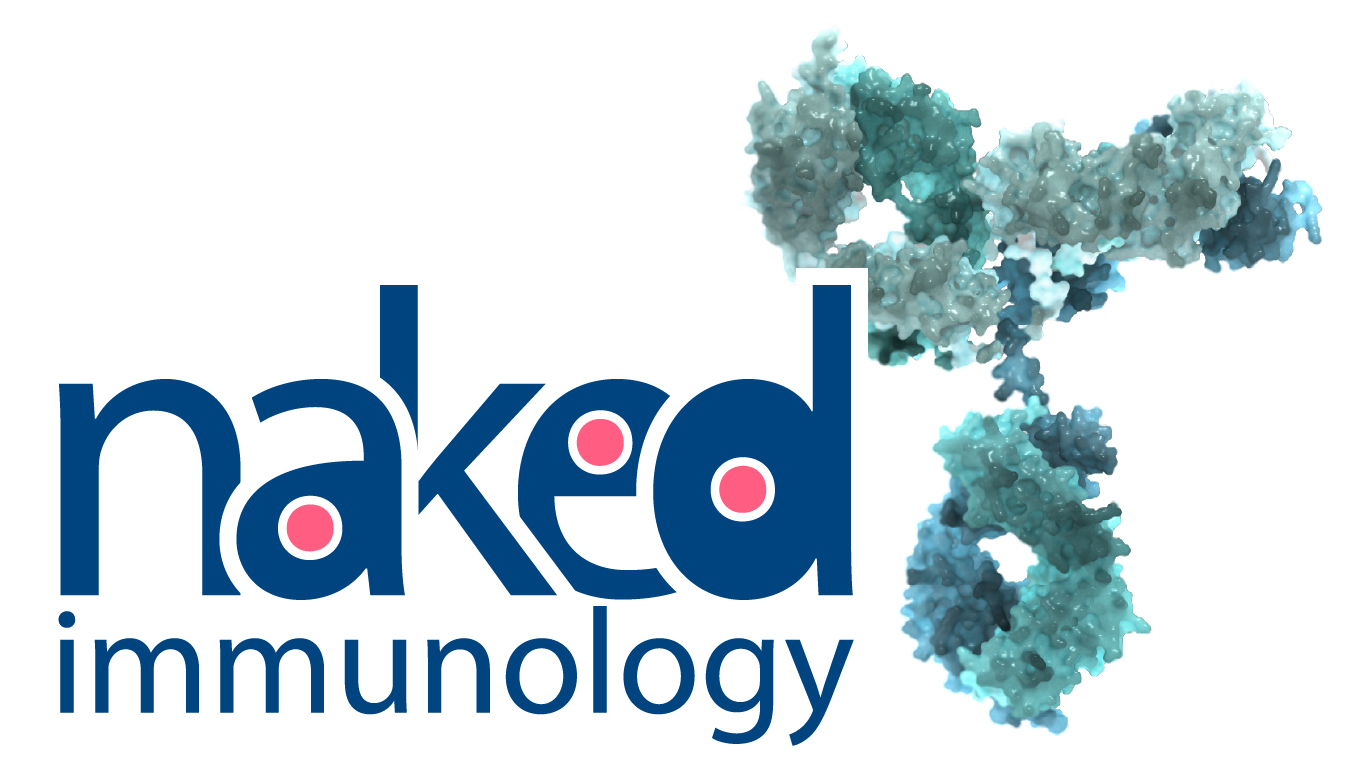 Immunology is a broad subject moving fast. The Naked Immunology webinar series is here to help you stay up-to-date, with real science from expert speakers with a proven track record in the field. Join us on this journey into immunology and discover how recent trends can lead to better and safer drug development.
Top-level science through the eyes of an expert
The third webinar in the Naked Immunology series takes place on September 30, 2022 at 8 a.m. (PST), 11 a.m. (EST), 5 p.m. (CET). The webinar is open to English-speaking participants with a solid scientific background. Featured speaker is nobody less than Dr. Itch himself, Dr. Brian Kim!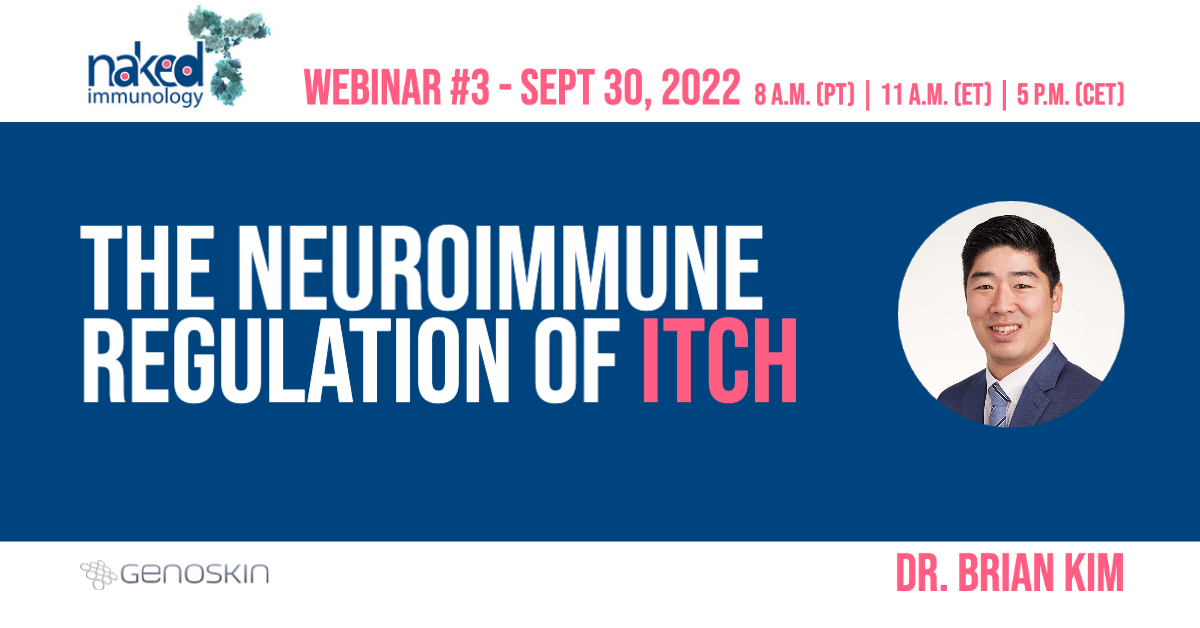 The ability to sense the environment is essential to survival and is the primary purpose of the somatosensory nervous system. However, despite its presence in many conditions, the sensation of itch, and its importance in medicine, have been historically overlooked and under-appreciated.
This edition of Naked Immunology highlights how fundamental discoveries and the ensuing success of new therapeutics, have placed itch biology at the forefront of a translational revolution in the field of somatosensation and beyond. Learn more in this exciting new webinar!
REGISTER NOW
About the speaker
Dr. Brian S. Kim, MD, MTR
Sol and Clara Kest Professor | Vice Chair of Research | Site Chair, Mount Sinai West and Morningside | Director, Mark Lebwohl Center for Neuroinflammation and Sensation | The Kimberly and Eric J. Waldman Department of Dermatology | Precision Immunology Institute | Friedman Brain Institute | Icahn School of Medicine at Mount Sinai.
Dr. Kim's research focuses on understanding how the sensory nervous system interacts with the immune system to shape behavior and tissue inflammation. He received his M.D. from the University of Washington, was a HHMI-NIH Scholar and completed his residency in dermatology at the University of Pennsylvania, where he earned a Master of Translational Research (MTR).
The Kim Lab studies mechanisms that underlie skin inflammation and the sensation of itch as a fundamental, broad, model paradigm of neuroimmunology. Key discoveries include the first identification of group 2 innate lymphoid cells (ILC2s) in the skin of both mice and humans, novel contributions of basophils, ILC2s, and natural killer (NK) cells to skin inflammation, and unveiling how immune cells and type 2 cytokines/JAK signaling directly influence sensory neuronal responses.
Dr. Kim has >100 peer-reviewed publications, multiple NIH grants, designed pivotal clinical trials that led to novel FDA-approved treatments, and is an inventor of itch-centered technologies. His research has led to awards and funding from NIH, Doris Duke Charitable Foundation, American Skin Association, American Academy of Dermatology, American Society for Clinical Investigation, American Dermatological Association, and International League of Dermatological Societies.
He holds a patent for the use of JAK inhibitors for itch and is on the SAB for Abrax Japan, Granular Therapeutics, Recens Medical, National Eczema Association, and Cell Reports Medicine. He is also a section editor for Journal of Immunology and on the board of reviewing editors for eLife.
Don't miss out & register now!
Please note that registration is required and that the number of participants is limited. You can register via the button below to receive your participation link.
REGISTER NOW
Watch the replay of past Naked Immunology Webinars
Comments are closed.